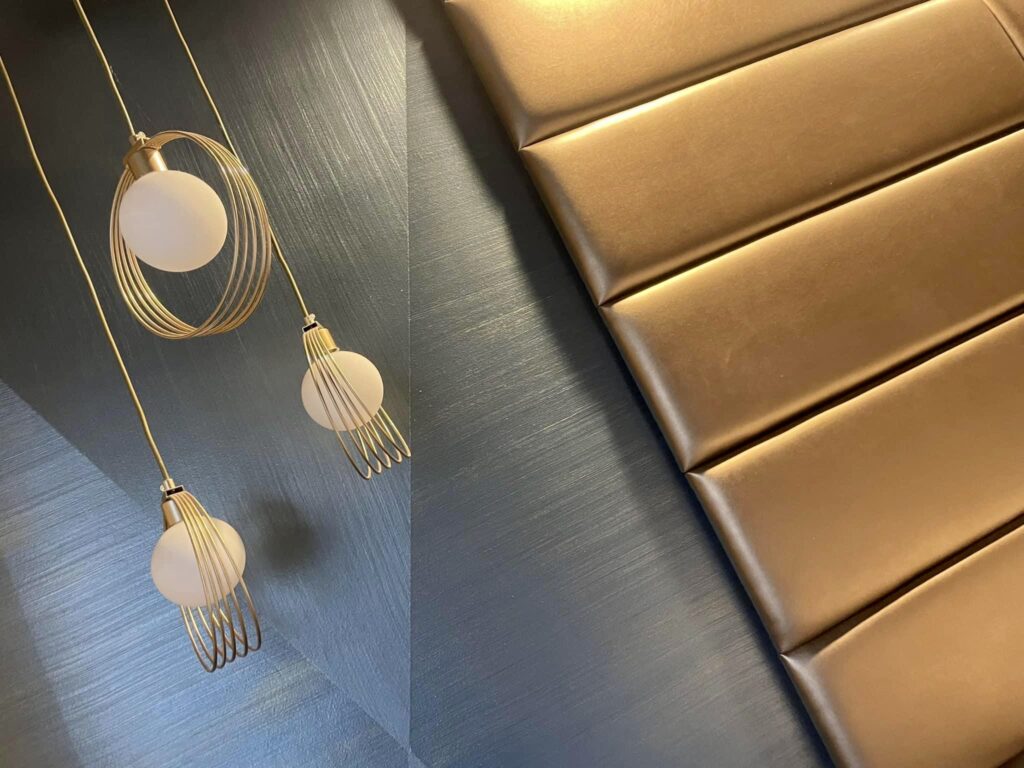 ---
WE ARE TWO TIME FAUXCADEMY AWARD WINNERS!
Founded in 2001, the Fauxcademy is a national competition open to all decorative muralists and artists working in any medium. Projects entered are judged by internationally acclaimed artists and industry leaders. The Fauxcademy awarded Fe Fi Faux Studios with the first place trophy for best kitchen / hearth room. This kitchen was given old world charm with the use of plasters applied to the wall over sections of anaglyptic papers that were hand-colored and then torn. The buried papers suggest a broken away and worn with time effect. Complimenting the kitchen walls are cabinets painted metallic bronze with a black pitted stone effect highlighted with metallic gold edging.
This award-winning sample is yours to view during your on-site consultation!
Our crew was also awarded:
First place trophy for best home theater / recreational area. This Omaha project for Bruce and Deb Grewcock incorporated a saddle leather stucco finish was created for a 5,000 square foot lower level. The piece de resistance was a 14 x 18 four sided bar that became the focus on the room. A copper-leafed ceiling and waving copper band was installed and riveted with upholstery nailheads to emulate the other copper accents in the room.
Three nomination certificates for Best Sample Creation, Best Architectural Feature, and Most Creative Use of a Faux Finish for a pair of old boots resurrected with the application of faux reptile skin.
MEDIA
Millions have tuned in to see Fe Fi Faux in media publications across the USA!
• Fauxcademy
• Artisphere Online
• Omaha Home
• Cre8tive Compass
• Fauxology: Powder Room
• Your Decorating Resource
• Fauxology: Portrait of An Artist
• Finishing Acts – Rebecca Slaton
• Walls and Ceilings
• Artistically Speaking Blog Talk Radio – Interview with Sass Lassley
FE FI FAUX STUDIOS HAS BEEN FEATURED
IN WORLD-CLASS PUBLICATIONS.
• Open House – Magazine of Interior Design and Architecture
• Arizona Home Magazine
• From House to Home Magazine
• Omaha World Herald
• Remodel Omaha
• Profiles In Faux Finishing
• Street of Dreams Magazine
• Multiple Symphony Show Homes
• Fabulously Finishes
• Artists in House of Faux International in 2007.
• Best of Omaha 2016